We share some key highlights from this week's landmark pharmacogenomics report
A new pharmacogenomics report has been released this week recommending that pharmacogenomic testing should become part of mainstream NHS care.
The document, which comes from the Royal College of Physicians and the British Pharmacological Society, covers many key areas, including education and training, strategies for implementation, funding, ethical considerations and patient engagement.
"Our understanding of human biology has been transformed by the sequencing of the human genome and our new-found knowledge of genetic variation…and we can use that knowledge to predict illness, diagnose illness and to treat illness on an individual, personalised basis," said NHS England chair, Lord David Prior.
Here are five things we learned from the report:
1. Pharmacogenomics is the study of how our individual genomes affect how we respond to medications. Our genomes can determine whether a particular drug is effective, what dose is required and, in some cases, what side effects might be experienced.
The goal of pharmacogenomics, and of personalised medicine more widely, is to reduce 'trial and error' and give each patient the most appropriate drug at the most effective dose the first time. This would provide a better treatment result for the patient and fewer unnecessary prescriptions, follow-up appointments and hospital admissions.
2. Almost everyone has genomic variants that could affect drug interactions. The report shows that 99.5% of people in the UK have at least one gene variant that would affect their reaction to a drug. Around 25% of people were found to have four or more such variants.
The report also outlines around 40 different medicines that have a well-evidenced pharmacogenetic interaction with a gene variant. Many of these are common medicines, such as the painkiller codeine, which is the tenth-most prescribed drug in the NHS. Around 8% of people cannot metabolise codeine, and so it is not effective for them.
3. Around 6.5% of hospital admissions are the result of adverse drug reactions, and these admissions are estimated to cost the NHS £530 million every year. Furthermore, this figure does not cover the cost of wasted prescriptions or repeat appointments that are necessary when treatment is ineffective or harmful. The report's authors estimate that the total annual cost to the NHS of not getting the type and dosage right first time could be as much as £2 billion per year.
4. Pharmacogenomic testing in the NHS is already used for some drugs. For example, between 5% and 7% of patients prescribed Abacavir ­– an antiretroviral medication used in the treatment of HIV – can have a severe hypersensitivity reaction, which can be fatal. People with a particular human leukocyte antigen (HLA) gene variant are especially likely to be affected, and so NICE guidelines require a genomic test before this medicine is prescribed. Since this requirement was put in place, these instances of hypersensitivity reactions have been virtually eliminated.
5. Not all adverse drug reactions are due to gene interactions. The way medicines interact with our bodies is complex and can also be affected by our environment, diet, other drugs being taken at the same time and other health conditions. For example, many drugs are metabolised by the liver, so a patient with liver disease or past liver damage may need this to be taken into consideration by their prescriber.
Unlike all of those factors, however, a person's pharmacogenomic characteristics will not change over their lifespan, so test results can remain on a person's medical records and be visible to any doctors prescribing for them in the future.
To learn more about pharmacogenomics, read our introductory article, and follow this blog for further news and updates.
–
Pharmacy survey update
There's now just two weeks to go before our genomics in pharmacy workforce survey closes on April 15. We want to hear from ALL pharmacy colleagues working in primary care, secondary care, community pharmacy, mental health, education, academia, public health and industry! Make your voice count and help inform training and education plans for the pharmacy team in genomics, and let's shape the future!
North East and Yorkshire Genomic Medicine Service Alliance pharmacy lead Emma Groves said: "The pharmacy workforce will be an important link between genomic testing, medicines optimisation and access to personalised treatments. Therefore, it is vital that the pharmacy workforce have up to date knowledge and skills to adopt genomics into their current practice and provide the best possible care to patients."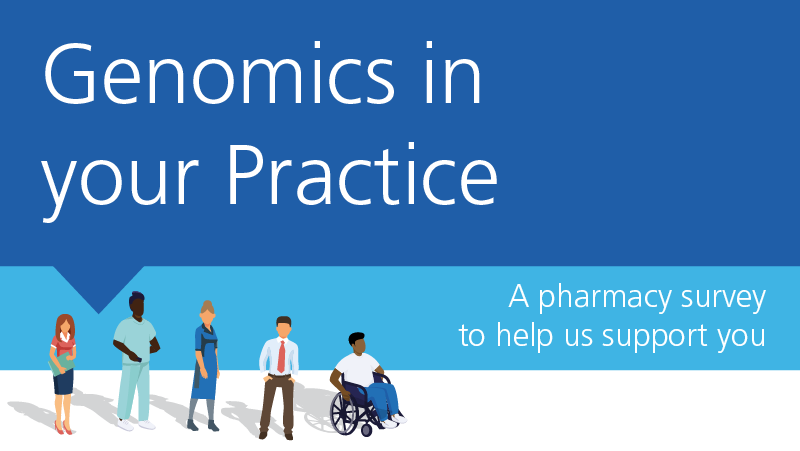 –
Please note: This article is for informational or educational purposes, and does not substitute professional medical advice.
https://www.genomicseducation.hee.nhs.uk/wp-content/uploads/2015/05/DNA-pharmacogenomics_17410190_900px.jpg
301
901
Ben Armstrong
/wp-content/uploads/2018/06/gep-white-logo-sm-v2.png
Ben Armstrong
2022-04-01 16:40:34
2022-04-01 16:40:34
Personalised prescribing report: five things we learned