In the second of our #GenomicsConversation Q&As, gynaecology cancer nurse specialist Tracie Miles talks about how her patients inspired her to get into genomics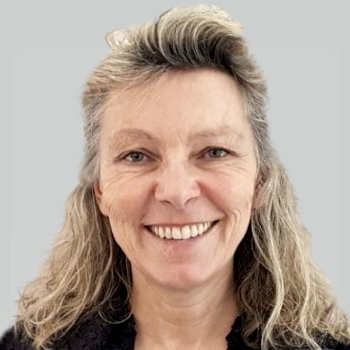 Could you tell us a little bit about your role?
As a cancer nurse specialist, I manage the patient pathway through diagnosis, treatment (surgery, chemotherapy and radiotherapy, or combination), through to follow-up and maintenance. In the US we are referred to as 'nurse navigators', which is a good descriptor, as we help our patient and her family navigate the treatment pathway. My other role as a genomics practitioner is to support my colleagues to embed genomics into their patient pathway where applicable.
How did you get 'into' genomics? When did you become aware of its importance?
My patients 'got me into' genomics. As a gynae cancer nurse specialist, they started to ask "Could I have the Angelina Jolie gene?" when the actress revealed to the world that she had a BRCA1 alteration and had had risk-reducing surgery. She was tested for the BRCA alteration after her mother sadly died from ovarian cancer. Following on from that, PARP inhibitors (a targeted drug, referred to as personalised medicine) were being developed and were identified as being particularly effective for women with some types of ovarian cancer who tested BRCA positive.
How is genomics integral to your role?
Genomics is part of my gynae cancer nursing role. Offering women with ovarian cancer a BRCA test is now a normal part of diagnostic care, and importantly can be offered by the gynae cancer team as opposed to having to refer our patient to clinical genetics – this is called mainstreaming. Offering the right test in the right place at the right time is part of the value of the evolving Genomics Medicine Service.
Can you give an example of how you use genomics to benefit patients?
Keeping to the gynae theme, as mentioned we offer BRCA testing to our ovarian cancer patients. This helps their medical oncologist plan what treatments are best for them AND it helps my patient and her family, as in most cases they want to know about the inherited risk potential if she has a BRCA alteration. Just as Angelina Jolie did.
Also in the gynae cancer world, we look at testing our womb cancer patients' tumour specimens for a change in a number of particular proteins. If we see this change, we can go on to do further tests to see if she has a genetic condition called Lynch syndrome. This is really important, as Lynch is an inherited risk syndrome like BRCA, and as well as womb cancer we see colon and other cancers in this syndrome. Womb cancer is often the first cancer that affected women present with, so by checking for Lynch we can enable preventative health information for our patient (so she can have screening if positive) as well as information for her family.
If there was one thing you'd want your fellow nurses to know about genomics, what would it be?
Don't be frightened that this genomics revolution is all about complicated science and is completely beyond you. EVERY nurse is a genomics nurse in some way. You can be a novice and just know where to look to learn the basic terminology or who to refer patients to – there are free courses to help with that. And you can further develop your knowledge and expertise, understanding what is relevant for your patient group, like I did for gynae cancer. Genomics has gone from niche to necessity. We have a duty of care to know a little more than we did yesterday for our patients. The great thing is there are people out there to help us!
What kind of career opportunities can you see opening up in genomics within the nursing profession in the future?
The plan is to embed genomics into nursing roles, as opposed to having standalone nurse practitioners providing the genomics element to our patient pathways. That said, there will be nurse educators and nurse leaders who will need to focus on helping this to happen. We have an exciting new development in the Genomic Medicine Service Alliances, which will work as seven multidisciplinary expert teams to bring genomics to all the healthcare workforce, and nurses will play a key part in this.
We also have excellent courses that have been developed to support further learning. For example, the University of the West of England is running a 15-credit Master's module in genomics for nurses. It's all online, there are funded places, and it received great reviews from the first cohort that learnt during lockdown last summer. Applications for the next cohort are opening this week.
What are your key lessons learned?
One of the most important things that I have learnt in the last decade is the multidisciplinary approach needed with the emerging care around genomics, from GPs (and therefore general practice nurses) through to histopathologists, radiologists, nurses, doctors, pharmacists – the list is endless! We must remember that the expert clinical teams will always be there to guide and take over care when needed. Go find out where your local genetics team are, who might help you support your patients, and find out who is leading genomics education in your organisation. (And if you can't, ask me!)
And your final word on genomics in nursing?
We are generation genome! Be excited for yourself and your patients! Know you are supported – just look at all the resources shared during the #GenomicsConversation. Let's celebrate genomics moving from niche to necessity and enhancing the care of our patients.
Tracie Miles is a gynaecology cancer nurse specialist and genomics practitioner at Bath Royal United Hospitals NHS Foundation Trust
–
Please note: This article is for informational or educational purposes, and does not substitute professional medical advice.
https://www.genomicseducation.hee.nhs.uk/wp-content/uploads/2016/12/Nurses.jpg
355
1078
Aine Kelly
/wp-content/uploads/2018/06/gep-white-logo-sm-v2.png
Aine Kelly
2021-06-29 10:00:32
2021-06-29 10:05:34
Genomics in practice: 'We are generation genome!'