In the second article in our series, we share the story of Melanie's long journey to finding a genomic diagnosis for her daughter Saskia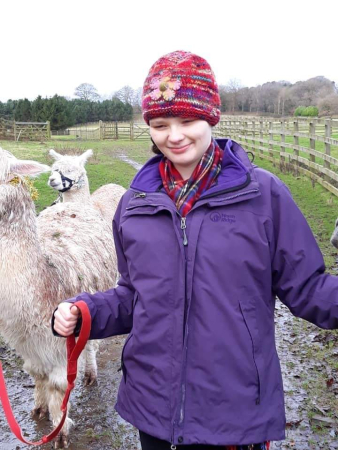 By the time Melanie's daughter Saskia was three years old, she had missed all the important early childhood milestones – from sitting up and crawling to walking and talking. She had also begun to display troubling behaviours such as hitting, scratching and biting.
Saskia's case was referred to a paediatrician; however, aside from setting a schedule of progress checks for her developmental delay, no investigation was begun for nearly three years.
"In 2011 we were referred to a neurologist," Melanie recalls, "and a week before Saskia's sixth birthday she was diagnosed with epilepsy."
Saskia's neurologist referred her to the local clinical genetics team, who plotted out a family history and took DNA samples to test for Angelman syndrome and fragile X syndrome. The results of both tests came back negative, however, and Saskia was subsequently discharged from clinical genetics.

The Deciphering Developmental Disorders study
To Melanie, it was starting to seem like they'd never have an explanation for Saskia's symptoms – but later in 2011, Saskia's paediatrician recruited her into the Deciphering Developmental Disorders (DDD) study.
The DDD study brought together medical professionals from what was then the 24 regional genetics services (now the NHS Genomic Medicine Service), along with scientists from the Wellcome Sanger Institute, with the aim of using new genetic technologies to understand what causes developmental disorders. Although recruitment of new patients ended in 2015, those involved in the study are still analysing and re-analysing the clinical information from the over 12,000 undiagnosed children and adults who participated.
An extremely rare diagnosis
While some participants of the DDD study remain undiagnosed to this day, Saskia's results came back in 2013 with a diagnosis of something called Syngap1.
"At the time I remember thinking, 'Syngap what?'" says Melanie.
At a subsequent appointment, a clinical geneticist confirmed that Saskia was one of only three children in England and 16 people worldwide to have received a diagnosis of Syngap1. The geneticist had some photographs taken of Saskia, provided the family with a medical journal he had looked up online and, because he could tell them nothing about Syngap1, discharged them.
"At the time I was numb," Melanie says. "I remember thinking, 'Only two others in the whole of England with the same condition, and only 16 diagnosed in the world. And all we have is two pieces of paper: her confirmed diagnosis and a copy of a medical journal.'"
Finding some answers
The medical journal provided by Saskia's geneticist turned out to be the key that unlocked the information her family so desperately sought. "Straight away we googled the author, a doctor from Quebec, and reached out to him," Melanie says. "On our Skype call, he explained that Syngap1 happens because of a deletion in chromosome 6 and can result in autistic spectrum condition (Saskia had been diagnosed with autism just after receiving her Syngap1 diagnosis), as well as epilepsy and difficulties with speech, sensory processing, sleep, fine motor skills and behaviour … Finally I had some answers."
After that initial conversation, things started snowballing for Melanie and her family. They found a woman in the USA who wrote a blog about her son's Syngap1 and made contact; then they received a letter from a doctor at Sheffield Children's Hospital who had a patient with Syngap1 and wanted to write the UK's first medical journal piece about it.
Creating a community
Then, in 2019, the family travelled to Texas, USA for the first ever meeting of Syngap1 patients, their families and medical researchers interested in the condition. Among the delegates was the doctor from Sheffield and a group of researchers from the University of Edinburgh, who had just been awarded funding to look into Syngap1. From having no diagnosis for Saskia's symptoms and feeling they had nowhere to turn, all of a sudden Melanie and her family were surrounded by people with the same condition and people who were going to find out more about it.
Although Syngap1 remains an extremely rare condition, as the years have gone by Melanie has heard about more and more people being diagnosed with it. "Through genomic testing and more funding, the Syngap community has continued to grow ever since [the 2019 conference]," Melanie says. "We now have a Syngap UK website and UK family and researchers' conferences. We are no longer a family alone, with no support, as there are now 115 children in the UK and 1,055 in the world with a diagnosis of Syngap. Our community is ever-growing thanks to advances in medical science."
As genomic medicine becomes more and more of a focus across UK healthcare, funding for research into genomic conditions like Syngap1 will no doubt continue to increase – but what if your rare disease is non-genomic? Check back in tomorrow to hear from Zainab, a teenager whose rare disease does not have a genomic cause.
To learn more about how genomics can be applied in the diagnosis, treatment and prevention of rare disease, you can register for our online course or visit our rare disease education hub.
–
Please note: This article is for informational or educational purposes, and does not substitute professional medical advice.
https://www.genomicseducation.hee.nhs.uk/wp-content/uploads/2023/02/Day-3-blog-1350x450px.png
450
1350
Louise Summerling
/wp-content/uploads/2018/06/gep-white-logo-sm-v2.png
Louise Summerling
2023-03-01 12:30:58
2023-03-01 11:28:56
Stories of rare disease: Melanie and Saskia