To kick off our blog series for Rare Disease Day 2023, we share Aisha's story of living with Morquio syndrome and look at the impact that healthcare workers can have on a patient's journey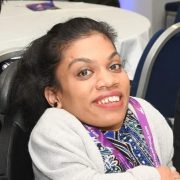 Aisha was diagnosed with Morquio syndrome, or MPS IV, when she was six months old. Her mum had noticed her spine curvature and protruding sternum shortly after her birth and, since there was no obvious cause, clinicians had raised the option of cosmetic surgery.
A few months later, however, Aisha stopped breathing at home and was rushed to hospital, where she was given her diagnosis.

Challenges of living with Morquio syndrome
Morquio syndrome is an autosomal recessive disease that affects the bones and organs and impacts the patient's physical ability. No one else in Aisha's family has it. Since her diagnosis, Aisha has been under the care of numerous different specialists – from cardiologists and physiotherapists to ENT and metabolic medicine consultants – and is frequently required to travel from her family home in Leicester to Manchester for specialist care.
For Aisha, the challenges of living with her rare disease are becoming more complex as she gets older. "When I was younger I had a lot more energy," she says, "but recently … I haven't been able to socialise with my friends or wider family. I have unfortunately missed the weddings of two friends, which was very sad for me."
The impact healthcare workers can have
When it comes to genomic conditions like Morquio, Aisha is keen to stress the importance of healthcare professionals knowing what to look out for. "It's important to know when genomics might be relevant so that people can be tested," she says. "I have a friend who has the same condition as me, but because she was not diagnosed until she was in her 50s, she hasn't had the care that she needed and her health has deteriorated."
Another area in which healthcare professionals can have a crucial impact, Aisha says, is communication – with the patient, their family, and with other hospitals and departments. "When information isn't shared it creates a lot of pressure on us to remember and communicate everything," Aisha says, pointing out too that, "Emotional support and understanding from healthcare professionals makes such a difference."
Crucially, not everyone's rare disease journey follows a similar path: whereas Aisha's condition has a genomic cause that was identified when she was young, some patients can wait a long time for a diagnosis – and others may never receive one at all. Come back later this week to read the story of Melanie and her daughter Saskia, who has a condition so rare that clinicians were mystified for years.
To learn more about how genomics can be applied in the diagnosis, treatment and prevention of rare disease, you can register for our online course or visit our rare disease education hub.
We wish to thank Lucy McKay at Medics 4 Rare Diseases for her invaluable support and for putting us in touch with Aisha.
–
Please note: This article is for informational or educational purposes, and does not substitute professional medical advice.
https://www.genomicseducation.hee.nhs.uk/wp-content/uploads/2023/02/Day-2-blog.-1350x450px.png
450
1350
Louise Summerling
/wp-content/uploads/2018/06/gep-white-logo-sm-v2.png
Louise Summerling
2023-02-28 12:30:55
2023-02-27 16:58:24
Stories of rare disease: Aisha